Trona Elementary Newsletter week of 9/18/23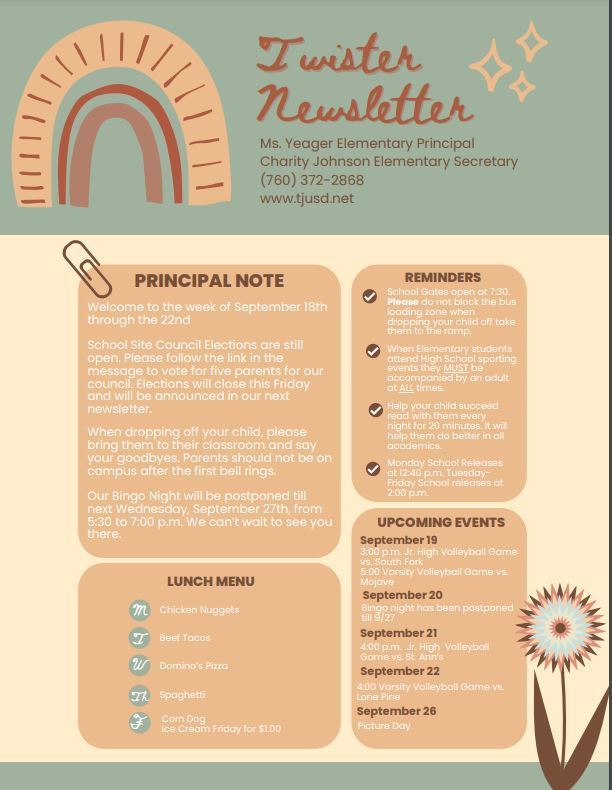 We are excited to let you know that YOU can now start purchasing athletic admissions tickets online. All credit cards are accepted, including Apple and Google Pay. The deadline for all athletic ticket sales will be at 2 p.m. on game day to allow us to get a list ready before the work day ends and into the cashbox. To purchase tickets please click the following link
https://trona.myschoolcentral.com/
Hello Parents/Guardians, Back to School Night August 28th, 6:00-7:30 PM Parents will start in the Elementary Cafeteria at 6:00 p.m. Then, every 10 minutes, a bell will ring, and you will get the opportunity to move around to different classrooms to meet with your child's teacher. Light refreshments will be served.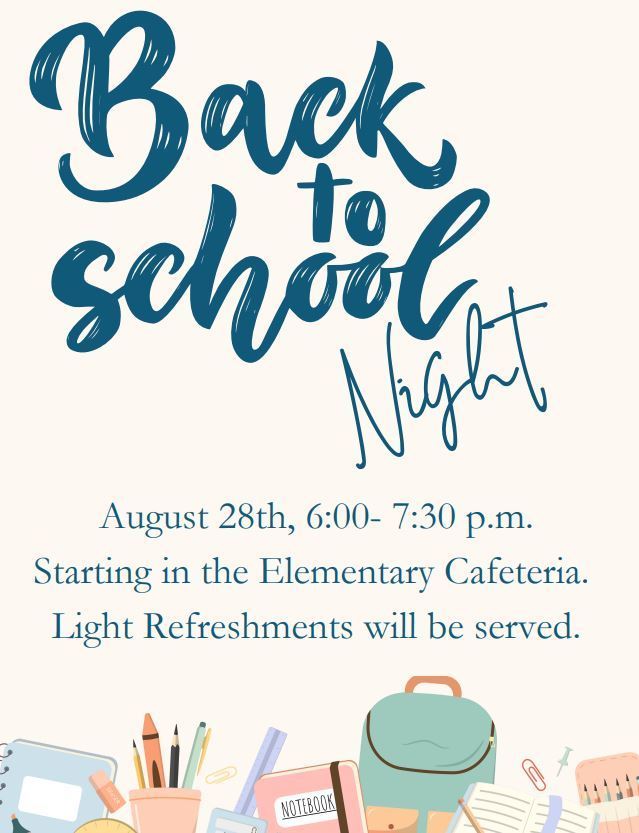 Hello Parents/guardians! Updated bus schedules for the 23/24 school year are ready. Note time changes on the high school schedule and ensure your student(s) arrive on time to their stops in the morning. If you have any questions, issues or concerns, please reach out to the your site secretaries. Elementary Office 760-372-2868 High School Office 760-372-2824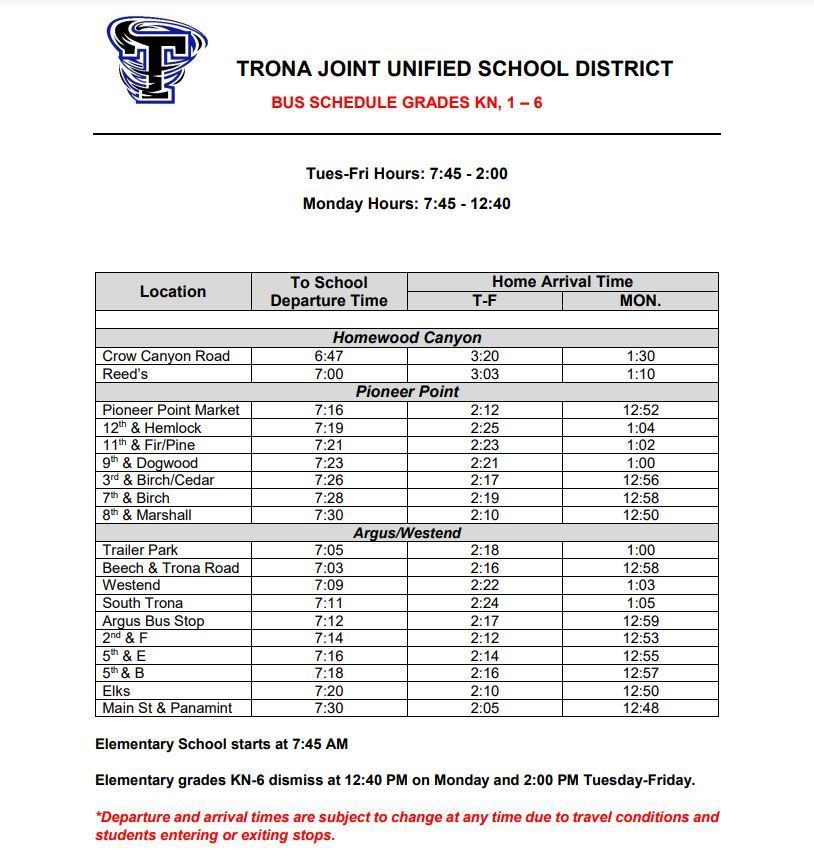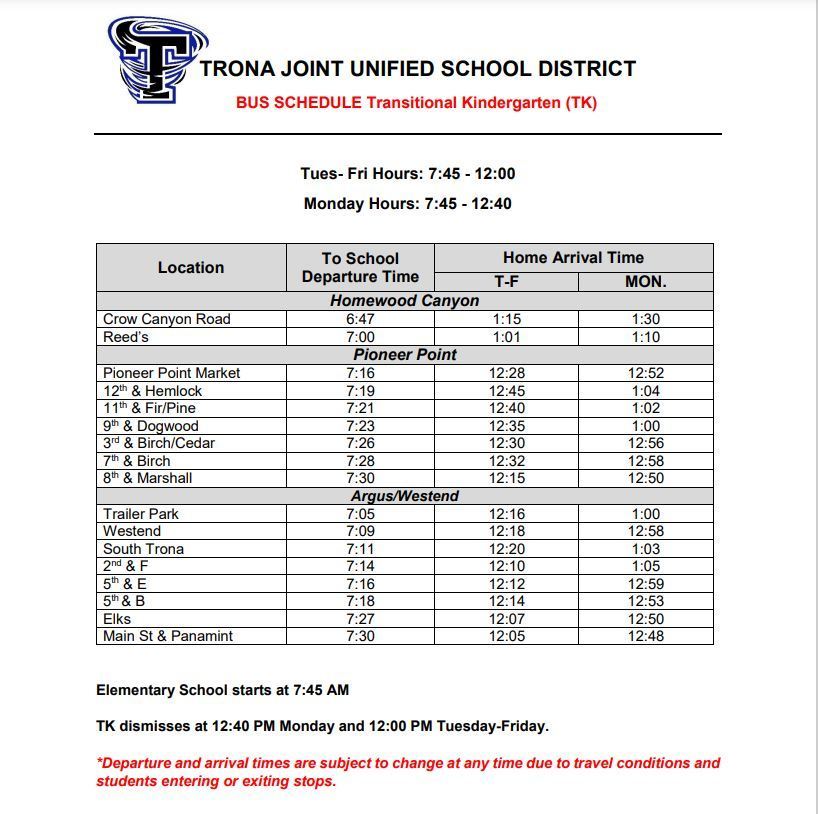 Parents and guardians, California schools are required to check immunization records for all new student admissions at TK/Kindergarten through 12th grade and all students advancing to 7th grade before entry. Parents must show their child's Immunization Record as proof of immunization. Please contact the elementary office or the district office with any questions. Elementary Office 760-372-2868 District Office 760-372-2861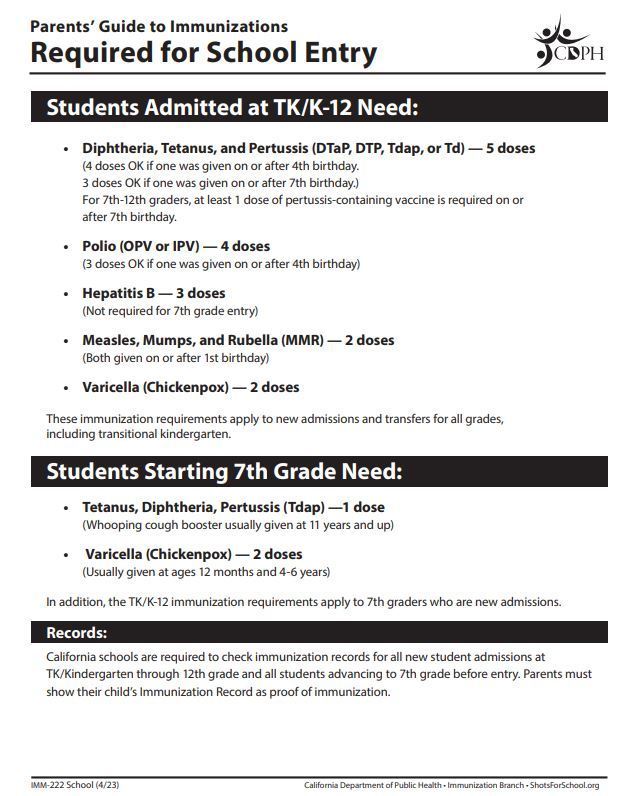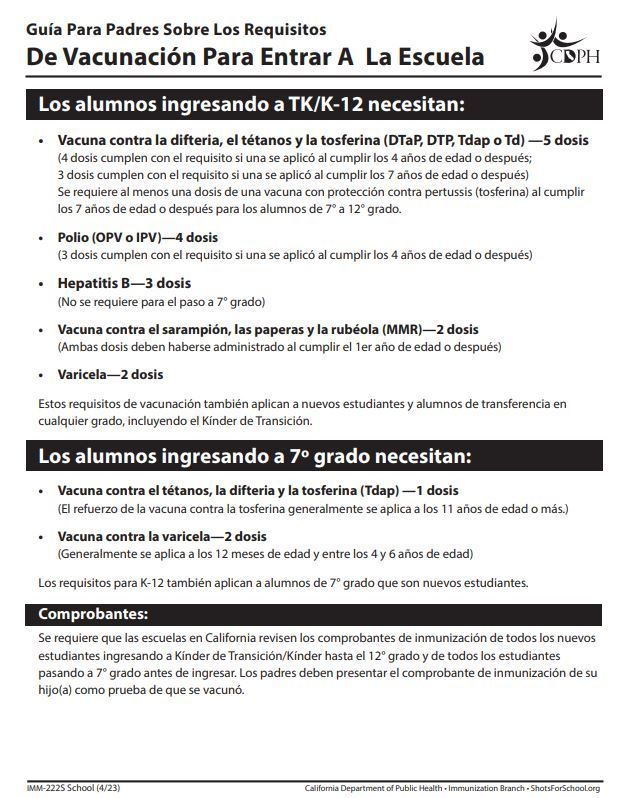 Trona Community Pool will be opening this Friday, June 30th from 10 am- 5 pm. Come enjoy some fun under the sun! Note: We want to emphasize the very limited number of lifeguards that we have on call this year. Please bear with us as we navigate this season. Thank you! Admission Prices: General: $2 Senior Citizen: $1 Season Passes: Adult 18-54: $20 Children 4-17: $15 Senior 55+: $10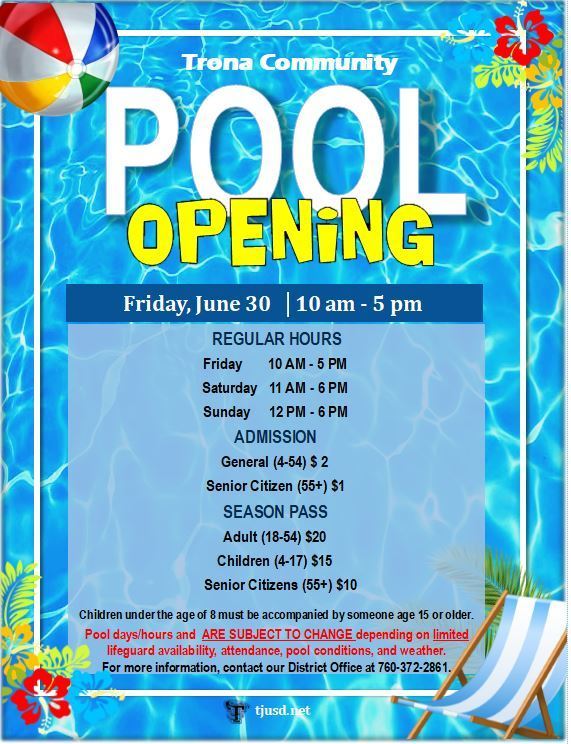 The following are upcoming events for the Elementary School: Wednesday, May 24th, students who have made progress on their diagnostic tests in IXL for the school year will get to participate in a dance after lunch. Kindergarten students through 3rd grade will join Ms. Yeager in the cafeteria from 12 to 1 p.m., and students in 4th grade through 6th will have their dance from 1 to 2 p.m. Trona Elementary School would like to recognize and celebrate these students' hard work and accomplishments. Thursday, May 25th Preschool Graduation will start at 9:30 a.m.; the elementary gate will be opened at 9:15 a.m. ONLY to individuals with a ticket to enter the preschool graduation. Once graduation is over, students will go home. Friday, May 26th No school Contingency Day Monday, May 29th, No School Memorial Day Tuesday, May 30th, 6th Grade Promotion Party, 6th grade students will be attending a movie and going to the park in Ridgecrest. Wednesday, May 31st, the 4th quarter awards ceremony will be in the multipurpose room at 9:30 a.m. Following the ceremony, students in Mrs. McCurdy's reading group from 1st and 2nd grade classes would like to put on a play, and then Mrs. Holden would like to honor the 6th grade students with cupcakes. Wednesday, May 31st is also our Water Day; please make sure that you pack your child with a towel and clothes they can get wet in. The Fire Department will join us as we make a splash into summer. Kindergarten through 3rd grade will play in the water from 11:50 to 12:50 p.m., and 4th through 6th will play in the water from 12:50 to 1:50 p.m. Thursday, June 1st, our LAST DAY OF SCHOOL; Kindergarten graduation in the multipurpose room at 10:15 a.m. The elementary school gate will open at 10:00 a.m. for seating. The class who earned the most BUGS from being unusually good students will enjoy a lunch from Trails Drive-In and a silly string party. Dismissal will be at 12:40 p.m.
Please join us May 15th 5:00 -6:00 pm in the multipurpose room. We will be presenting the opportunity of dual enrollment for our Trona High School students for current grades 6-11. See flyer for more information. If you have any questions, you can reach out to the District at 760-372-2861. Hope to see you all there to explore this exciting opportunity!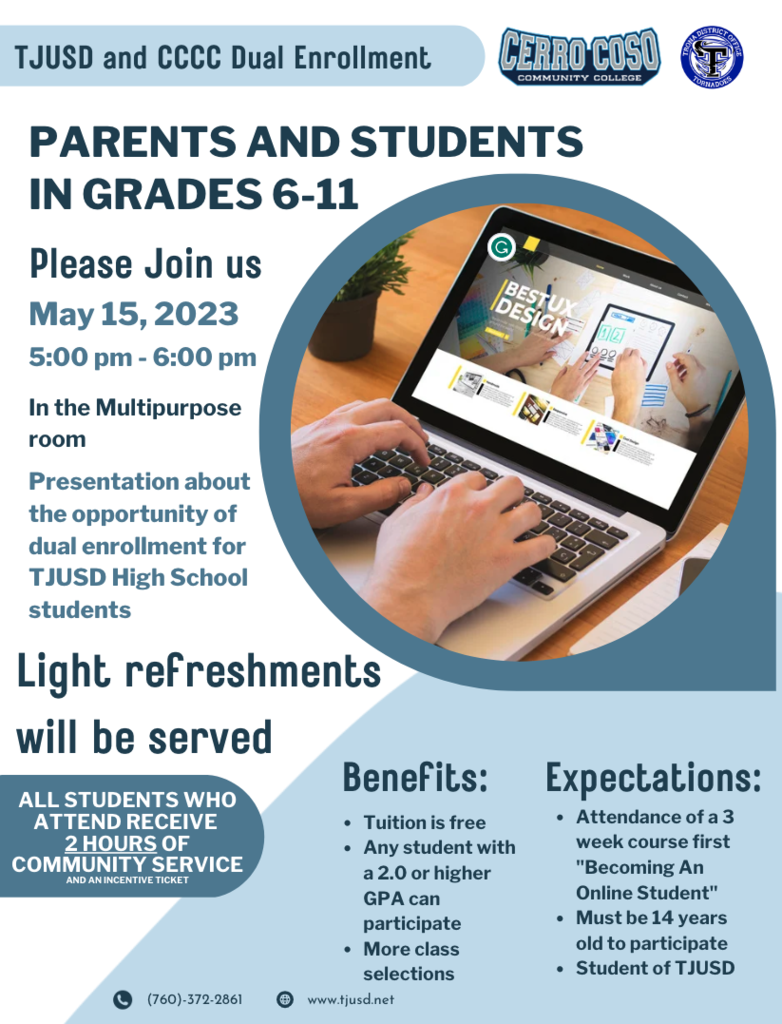 During our open house, scheduled for May 1st, join us as we explore dual enrollment with Cerro Coso Community College.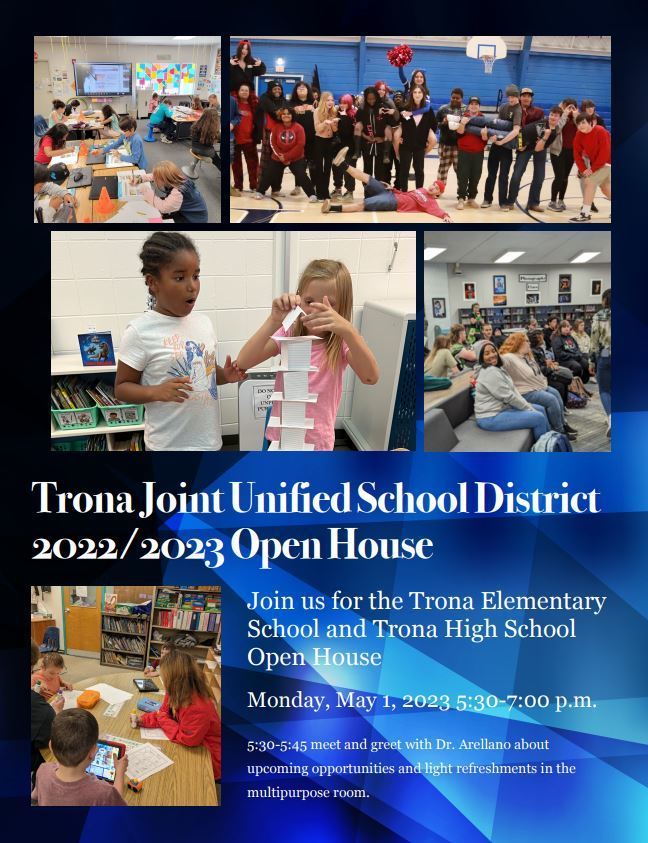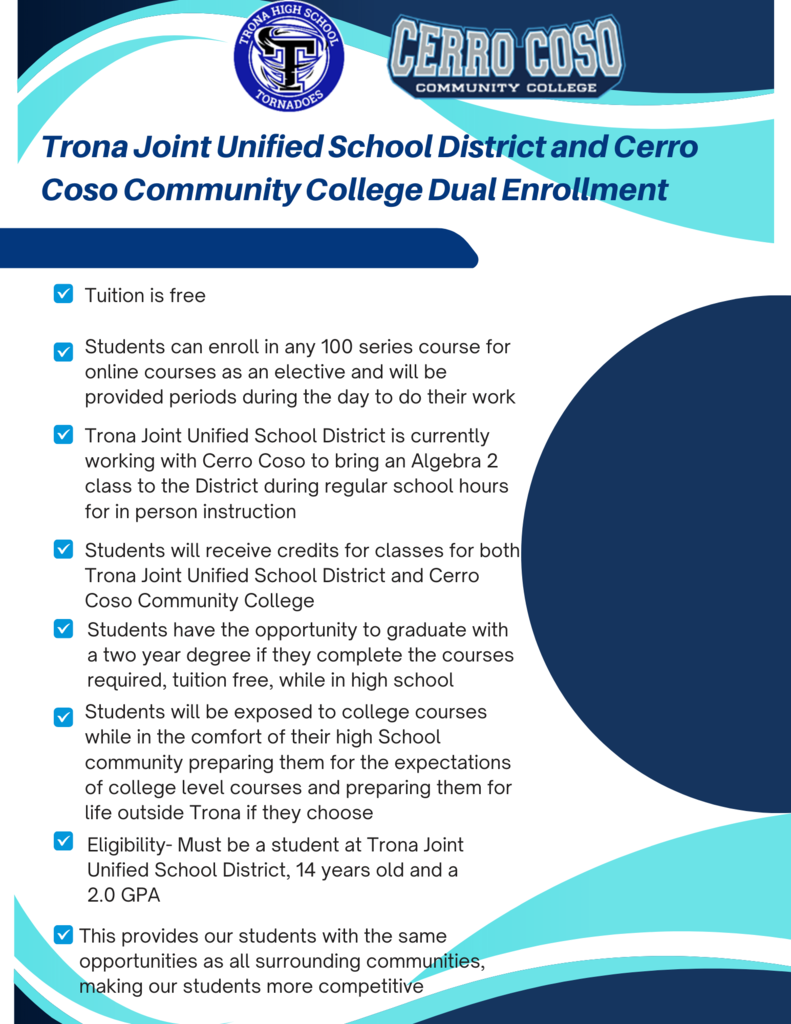 Please join us for Open House on May 1st 5:30-7:00 pm. At 5:30-5:45 pm, the District will hold a meet and greet with Dr. Arellano about upcoming opportunities. We look forward to seeing you!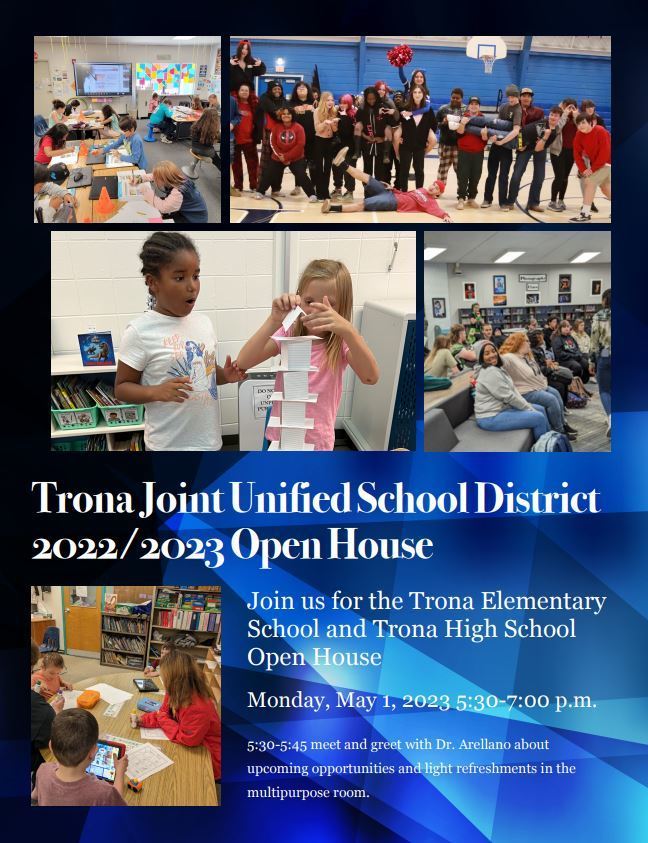 Happy School Bus Driver Appreciation Day! Thank you to our amazing drivers for always going that extra mile. TJUSD is grateful for your continued commitment to safely transporting our students each and every day. You are truly appreciated!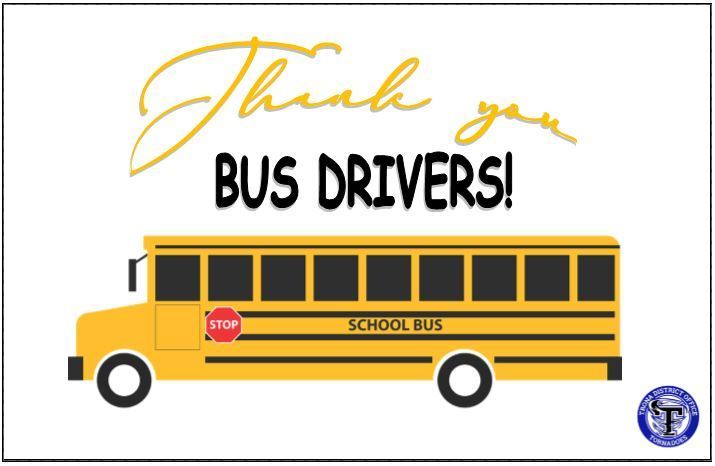 Order your 22-23 elementary yearbook featuring Kindergarten - 6th grade $25. Only available to order until April 14, 2023.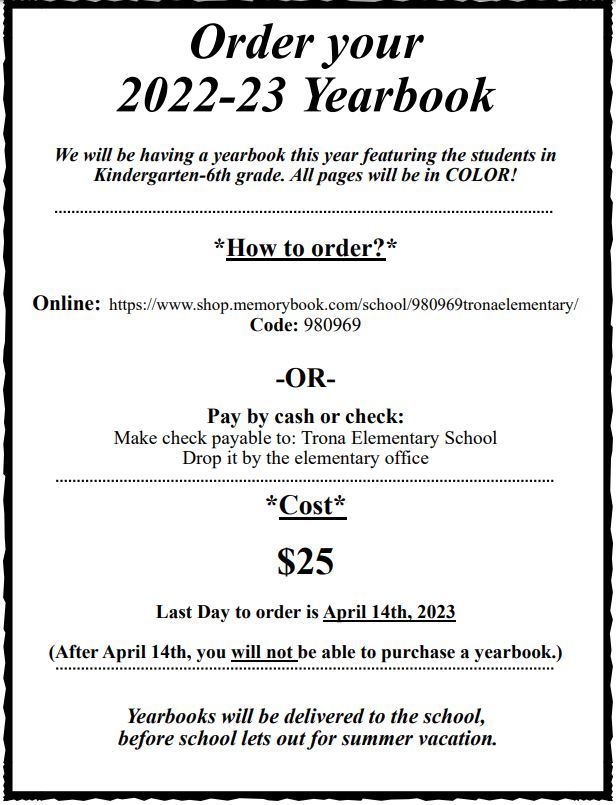 1/12/23 UPDATED- 22/23 Basketball Schedule- Check back frequently for updates.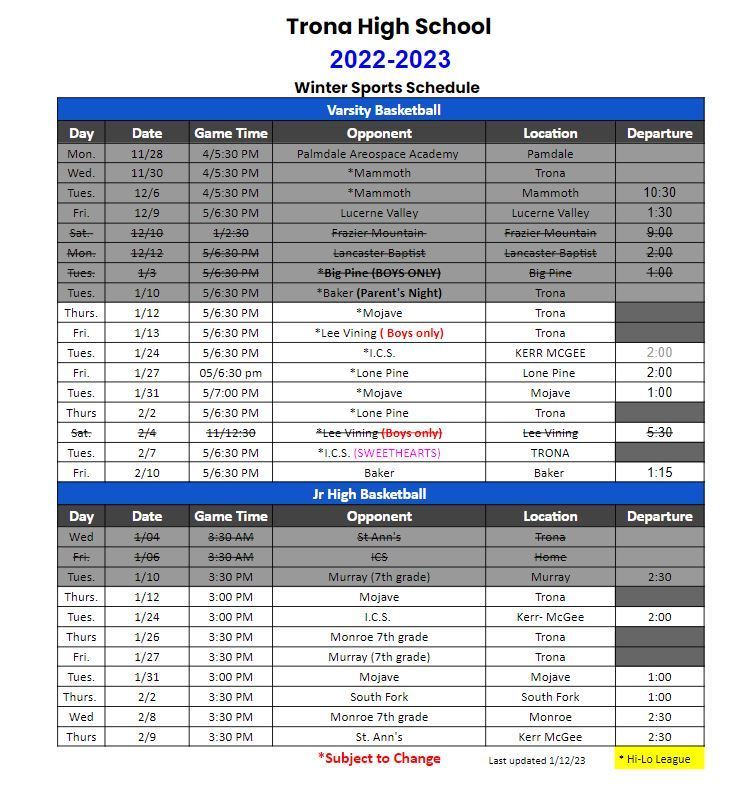 Family Movie Night Friday, January 27th @ 5:30pm For a more accessible version click here
https://5il.co/1n2cg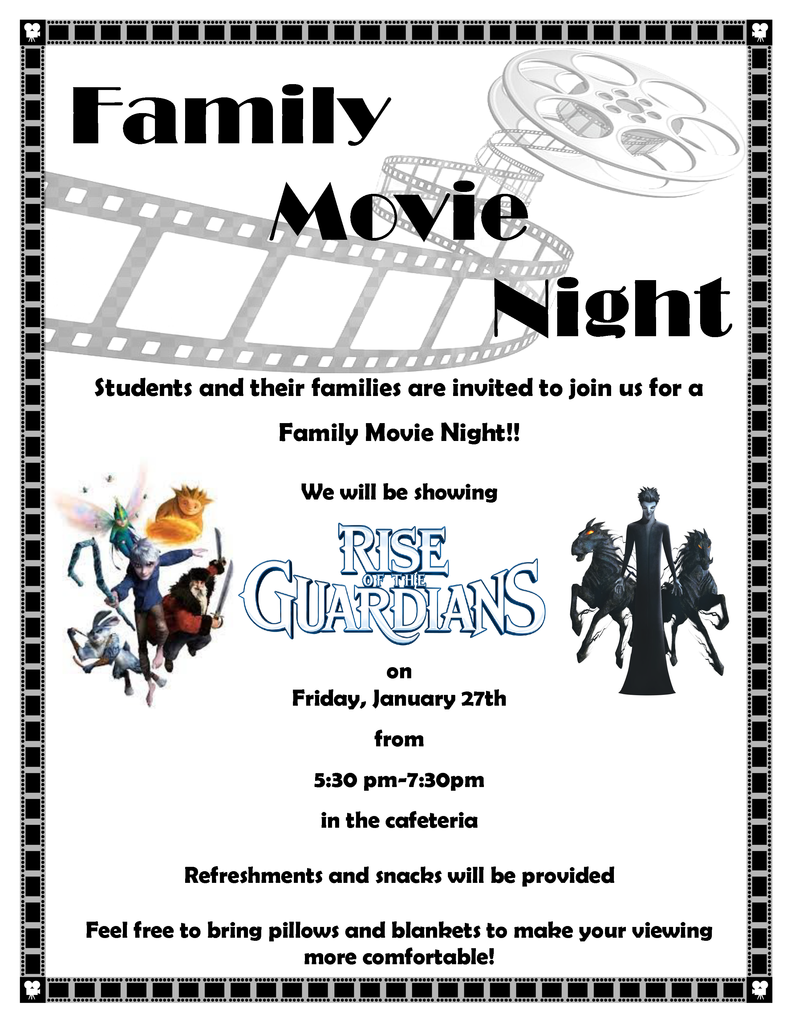 Social Media & Drug Awareness Assembly presented by Hesperia Police Department For a more accessible version please click here
https://5il.co/1n2ce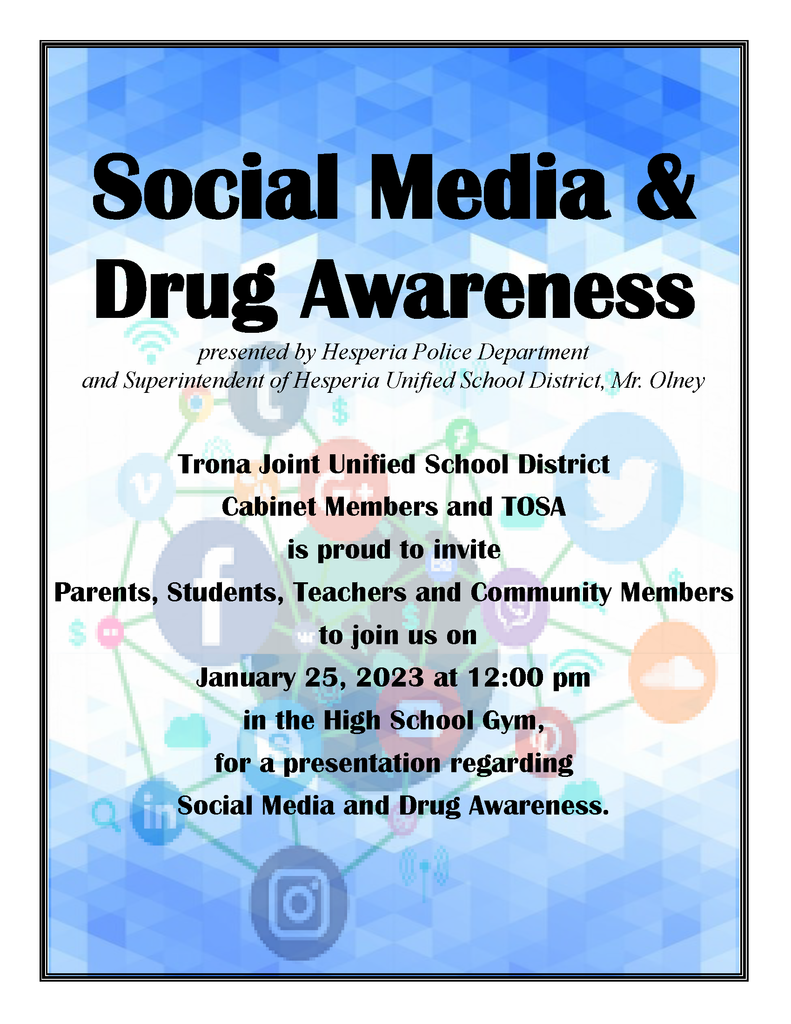 22/23 Basketball Schedule- updated 1.9.23 Check back frequently for updates.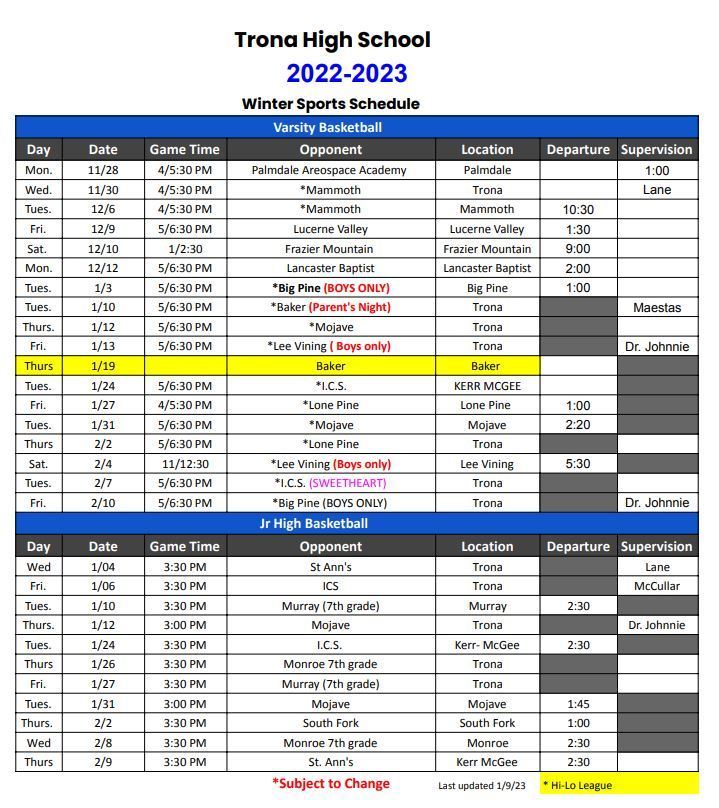 Free Dental Screening November 21 from 9:00am to 2:00pm at Trona Senior Center. Children Only (0-18 years)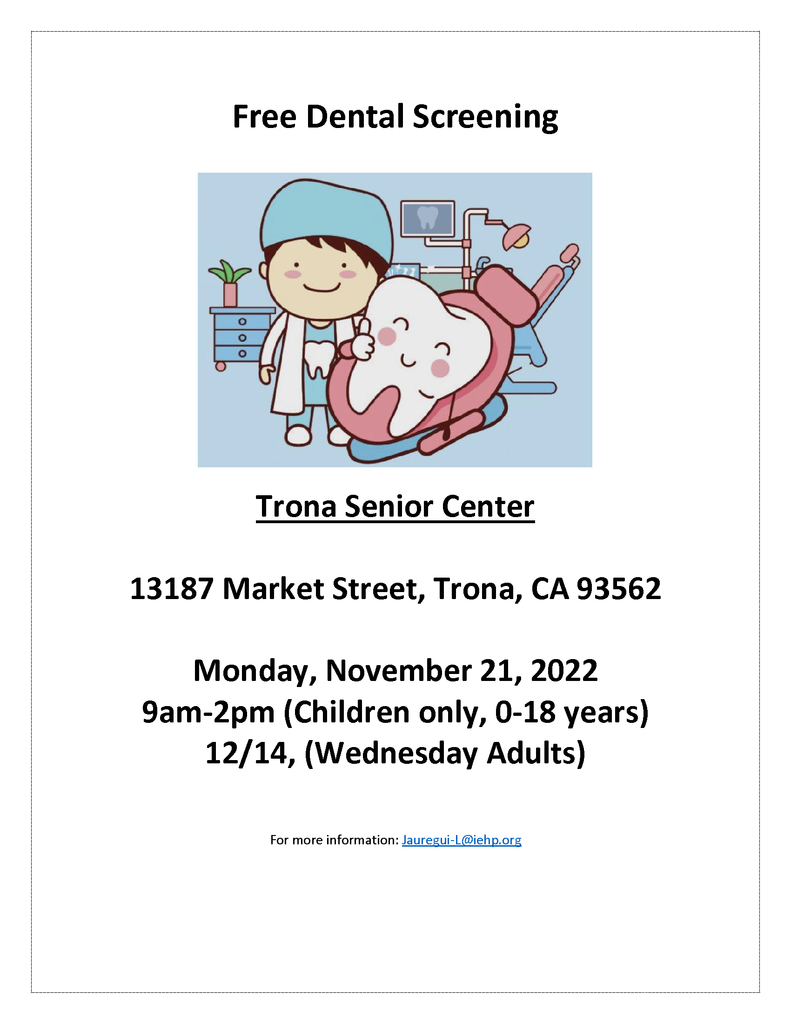 Community Clean-up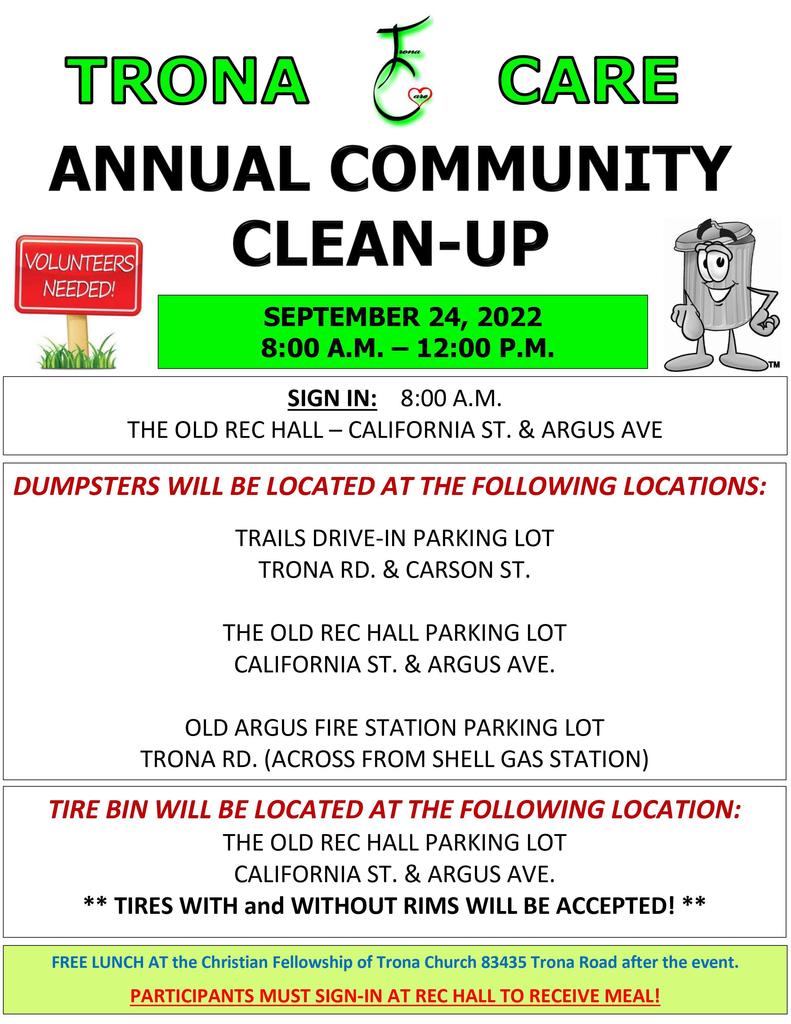 This letter is to notify you that TRONA JOINT UNIFIED SCHOOL DISTRICT has a possible case of chickenpox (also called varicella) has been reported in a child attending our school and your child may have been exposed. For a more accessible version of the letter click on this link
https://5il.co/1h556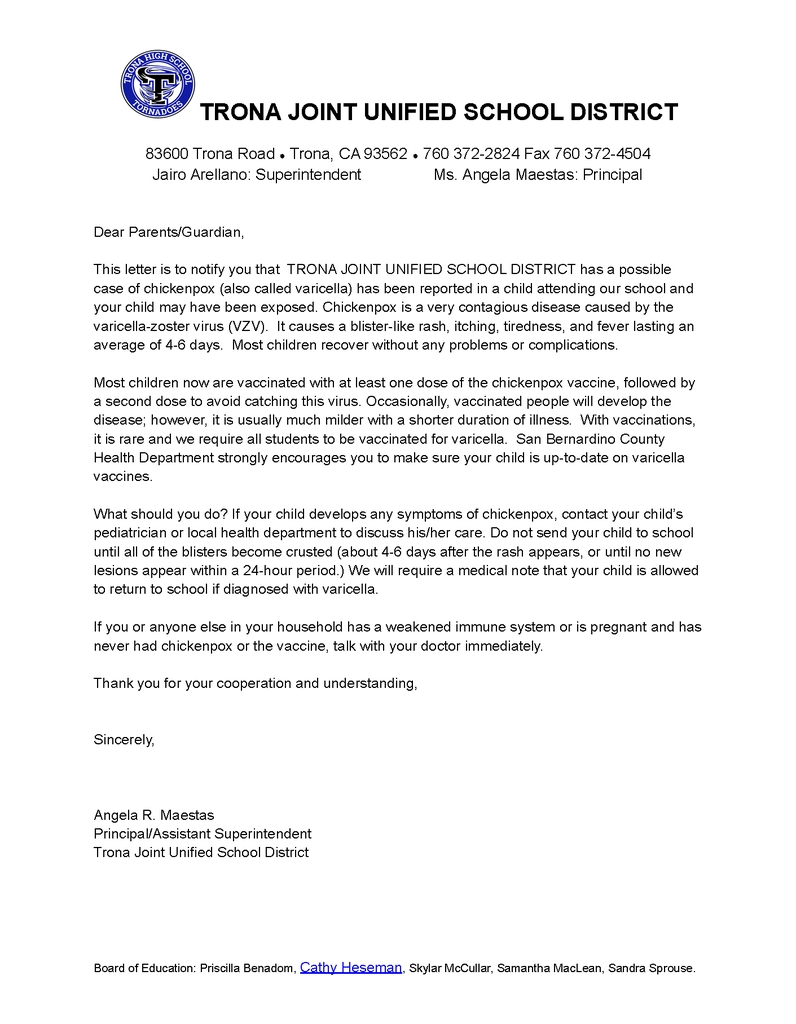 The Trona Community Pool is closed for the season. Thank you to the community for joining us this year!