Homecoming Community Events.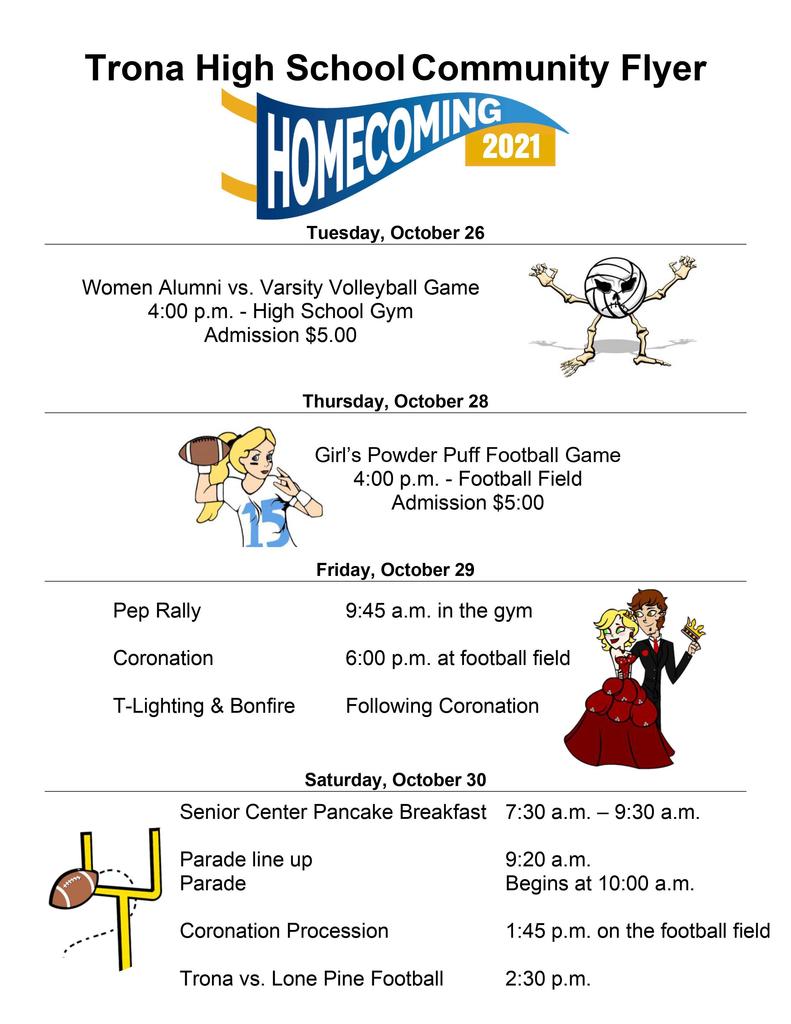 Dear Parents/Guardians and Students, The passing of AB 104 (Gonzalez), contains a provision that allows high school students to change their letter grades to a Pass or No Pass grade on their transcripts for the 2020-21 school year. Attached to this letter is a "request a grade change" form that the students will fill out and submit to the high school office. This has also been posted to our website. Both the CSU and UC systems have issued guidance on how they will handle admissions and GPA calculations for transcripts with Pass or No Pass grades. The CSU information can be found at the following link
https://www2.calstate.edu/apply/Pages/first-time-freshman-faq.aspx
UC information can be found at the following link
https://admission.universityofcalifornia.edu/response-covid-19.html
AB 104 requires CSU schools, and encourages UC and private postsecondary schools, to accept without prejudice any transcripts with Pass/No Pass grades. Students will have 15 days from today to submit the "request a grade change" to the high school office. AB 104 states that the high school shall not honor grade change requests after 15 days. The high school will have 15 days from the day the grade change application is received to change the transcript and notify the pupil and the pupil's parent/guardian of the change. Here is a link to the letter and form
https://5il.co/w96d
. A more accessible version is available in the high school office. If you have any questions, please let us know. Thank you Trona Joint Unified School District

The county donated a number of clothes for our students. These clothes were previously going to be used in uniform schools. clothing. We have skirts, pants, shorts, shirts, sweaters and more. We have a lot of clothing for k-3 and some clothing for 4-12. We will be in the old high school library till 9:30 this morning. If you are interested and cannot make it this morning please reach out to the high school office.


Just a quick update on yearbooks. They will not be in until late July or early August. Once they are in we will send out an announcement and set a date for a distribution party.

Just a reminder for those who got the COVID-19 vaccine on May 24th, your second dose will be given on Monday, June 14th from 11:00 am and 3:00 pm in the gym.

Today is the day for the COVID-19 vaccination clinic in the Gym from 11:00 AM to 3:00 PM! Open to all individuals 12+ anyone under the age of 18 must have a guardian present.

TJUSD is hiring 4 student summer workers. Current seniors are preferred. Eligibility may be used for screening applicants. Seven hours a day, four days a week at $14 an hour. Applications can be picked up in the District Office. Deadline is June 4th.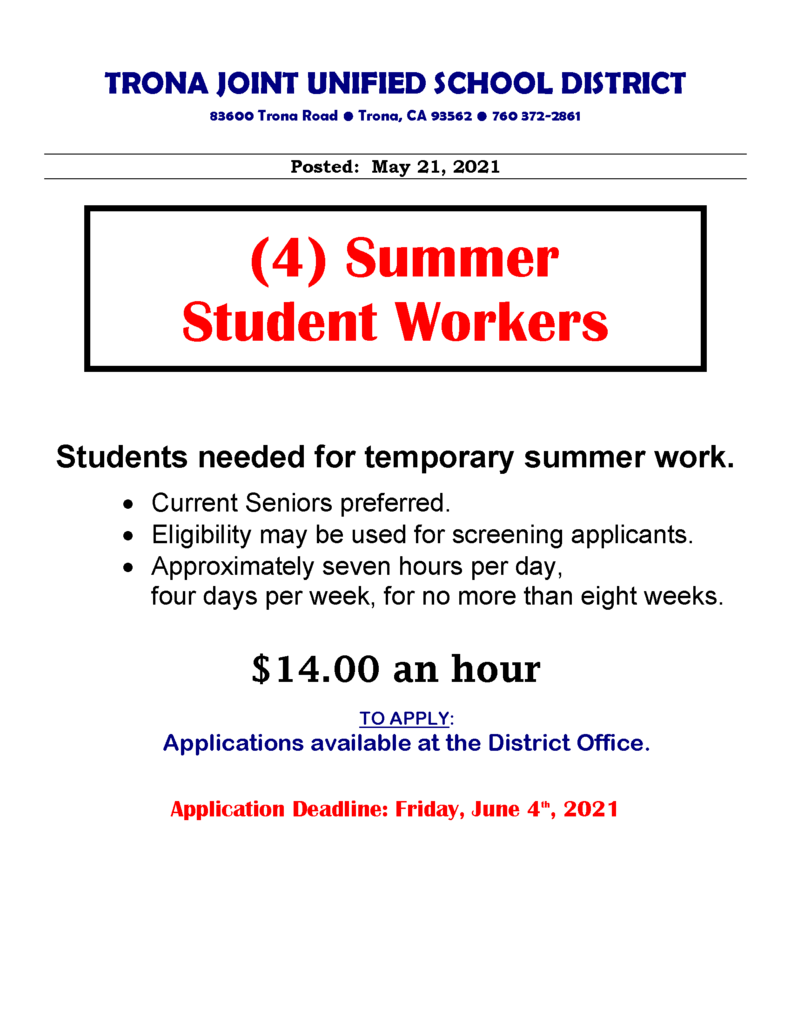 COVID-19 VACCINATION EVENT! Free | No Insurance Needed Trona Joint Unified School District @ GYM May 24th 2021 11:00 AM until 3:00 PM Event will be using Pfizer | All individuals 12+ are welcome to come APPOINTMENTS ENCOURAGED, WALK-INS ACCEPTED IF YOU WOULD LIKE TO PRE-REGISTER FOR AN APPOINTMENT: Scan the QR code (use Chrome or Safari)* OR go to MyTurn.ca.gov and provide the requested information. *Use the camera on your mobile device and hold it over the QR code to register Parent or Guardian MUST be present for anyone under the age of 18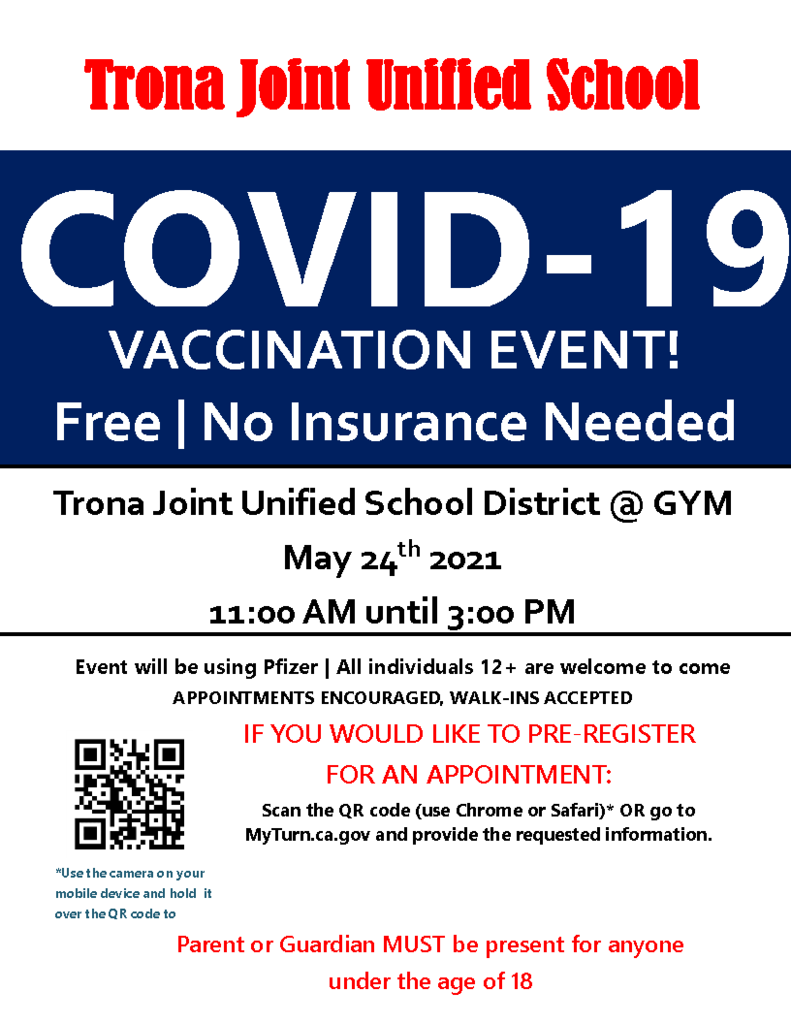 Notice of Public Hearing May 14, 2021 Desert/Mountain SELPA and Charter SELPA Annual Service Plan and Annual Budget Plan
https://5il.co/s1h4


Announcing the first annual Trona High School Photography Contest.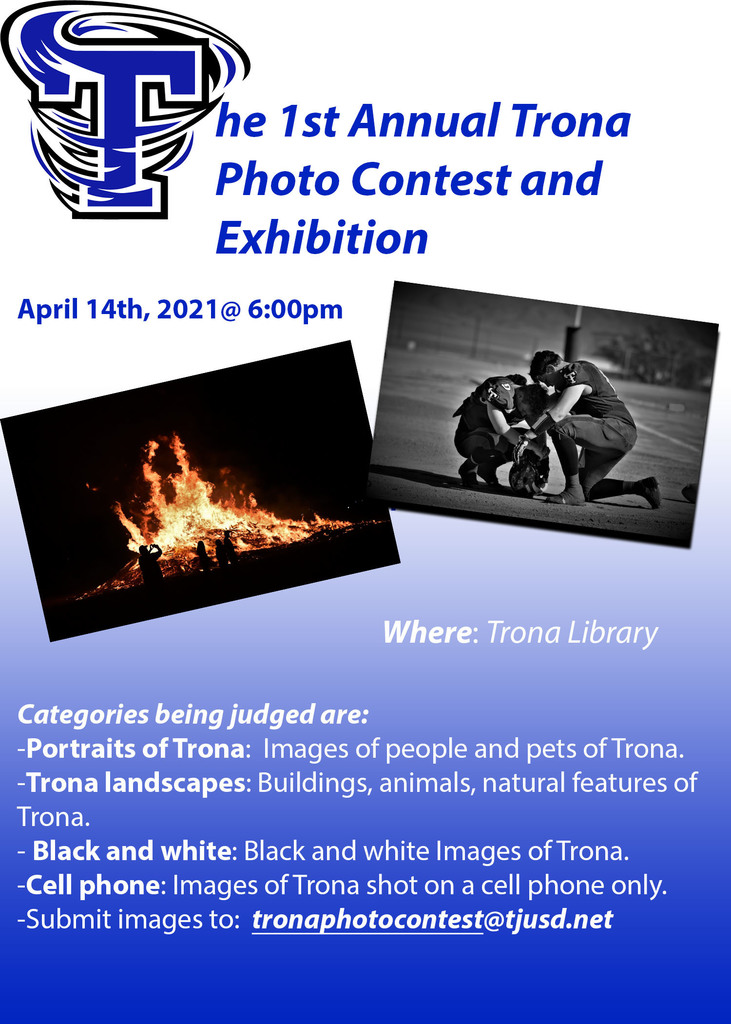 Here is the moment we all have all been waiting for, Trona High finally has the opportunity to play its first football game of the season! Unfortunately due to COVID-19 regulations attendance is limited, only those who have received a preadmission ticket may attend. If you would like to support your Tornadoes in spirit we are live streaming the game on YouTube at
https://www.youtube.com/watch?v=JmgLI9HP3YE
. Kick-off is 6:00 pm. Let's Go Tornadoes!

Temporary positions available. For more details follow this link
https://5il.co/n8d2
. For a printable application follow this link
http://5il.co/3rsp
. If you are unable to print an application, they are available in the District Office Room B9 at the Elementary School.